Sometimes it's the things that we don't do that matter most to our business...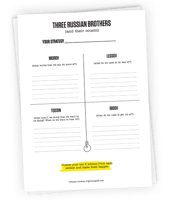 The 'Three Russian Brothers and their cousin' worksheet is all about getting straight to the point and identifying the actions that really matter for your business to achieve growth.
This quick and dirty strategic plan takes only minutes to complete and you will be surprised just how effective it can be for you and your business. Give it a go!
Get your own copy of the worksheet and follow the instructions in the video below on how to complete it.
Watch how you can make use of this worksheet in the video below!